Having white teeth is everyone's dream because it adds to our beauty. Teeth become darker or yellow with the growing age.People use different whitening products to get white teeth but these whitening products contain various chemicals which concern many people. To avoid these chemicals, many people prefer home remedies because they offer top benefits of professional teeth whitening; however, these home remedies can also harm your gums if used incorrectly or longer than usual time. Below is the list of 6 effective and fast teeth whitening remedies at home:
1. White Teeth with Ginger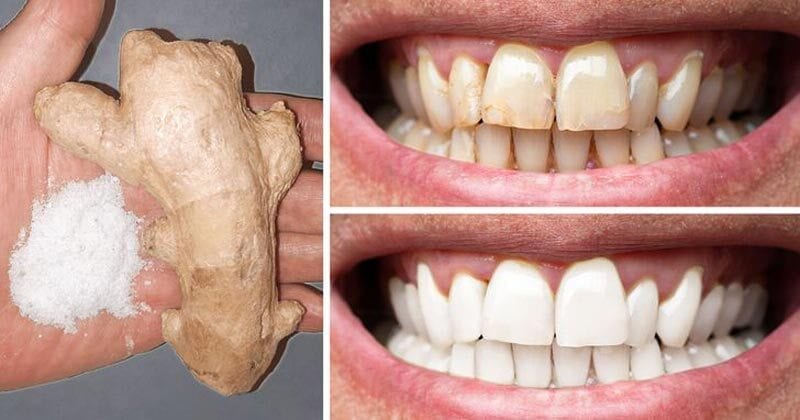 One of the teeth whitening home remedies includes using ginger. Ginger has anti-inflammatory properties that make your mouth tissue healthy. It is the basis for white teeth and a healthy smile. Adding ground ginger to savory or drinking ginger tea promotes anti-inflammatory properties. Ginger root is very good for the prevention of gum diseases as it is considered a healing herb. It also gives temporary relief from toothaches. Ginger can be used for teeth whitening and can be used with salt.
2. Lemon and Teeth Whitening
One of the fast teeth whitening home remedies includes lemon juice. Lemon is a great teeth whitener and bleaching agent. It contains a high acid level that helps in making our teeth white. Lemon can be used in two different ways to make your teeth white. The first method is squirting lemon juice on your teeth while the other method is rubbing lemon peel on your teeth. Due to its teeth whitening ability some people brush their teeth with lemon juice. Keep in mind that it can harm your teeth if used too frequently in large amounts.
3. Use Baking Soda
If you are searching for the best teeth whitening remedies at home, you must know about Baking soda. Using baking soda is one of the most effective teeth whitening home remedies. It is also one of the easiest methods through which one tablespoon of baking soda is mixed with one tablespoon of water to make a thick paste. It is then applied to teeth by using a soft-bristled toothbrush or with the help of your fingers. Brush your teeth with this paste for about two minutes and make sure to coat all of your teeth. Make sure to coat all of your teeth. Various baking soda toothpastes are also available in the market for this purpose but if you are already having your favorite toothpaste, you can add baking soda to it. Baking soda also prevents bacteria from growing in your mouth because of its alkaline properties and it removes plaque from your teeth very fast. Due to its alkaline nature, baking soda lightens acid-based food stains such as those from tea, coffee, and red wine.
4. How to Whiten Teeth with Hydrogen Peroxide
Hydrogen peroxide is another teeth whitening home remedy because of its bleaching properties. It can also kill bacteria of your mouth and it is being used by people for years to disinfect wounds. Many commercial kinds of toothpastes also contain hydrogen peroxide and they can often be used in combination with baking soda for better results.
Hydrogen peroxide is also used as a mouthwash before brushing the teeth. It is used widely for teeth whitening because it is an inexpensive household product. It must be used carefully as its overuse can also erode our tooth enamel; however, besides its benefits, it also has various disadvantages. It can damage your gums if used daily or if left in contact with your teeth for a long time. Other than this, zoom teeth whitening offered by our dentistry is also very effective for teeth whitening.
5. Teeth Whitening With Coconut Oil
Coconut oil is linked to various health benefits including teeth whitening. It can whiten and clean our teeth and also helps to prevent tooth decay. Coconut oil fights gum diseases and decreases plaque buildup; therefore, it is also a famous teeth whitening home remedy that gives instant results. It attacks the bacteria responsible for tooth decay and tooth loss. Due to these abilities, it is as effective as many mouth rinses.
There are two ways in which coconut oil can be used for making your teeth white. The first method is oil pulling, in which the oil is swished in the mouth for about 15 to 20 minutes and then spitted out. As part of this method, oil is used as a mouthwash. People started using this method thousands of years ago. It is suggested to use this method in the morning. The harmful bacteria and plaque are removed from your mouth by the fatty acids in the oil that attract bacteria.
The second method to use coconut oil for teeth whitening is to make your toothpaste with it. This toothpaste is made by mixing 0.5 cups of coconut oil with 2 tablespoons of baking soda and 10 to 20 drops of peppermint or cinnamon essential oil. The mixture is then stored in a sealed container. Apply it on your teeth and brush for 2 minutes and then rinse it. Due to its ability to whiten teeth and lessen the sensitivity, coconut oil is used widely as an effective home remedy to make teeth white.
6. Strawberries for Teeth Whitening
Strawberries are also used for teeth whitening and cleaning. This magical fruit can do wonders for your smile by adding shine to your teeth. The method involves mashing the strawberry and mixing it with baking soda. IIt is then applied to the teeth either with a toothbrush or with fingers. This paste is then rinsed after a few minutes, followed by another round of brushing with our regular toothpaste. This mixture can also be used as a scrub. It is the most delicious way to make your teeth white at home.
This method should be used only once in a week because its regular use can damage our tooth enamel. The strains of the teeth are lightened by the malic acid and ascorbic acid present in strawberry. It makes your teeth whiter and brighter within just a few rounds. Strawberries are widely used for teeth whitening because they do not have any harmful effect and at the same time, they are cheap as well. It is an effective home remedy as it removes stains from our teeth caused by red wine, coffee, and dark sodas.